Editorial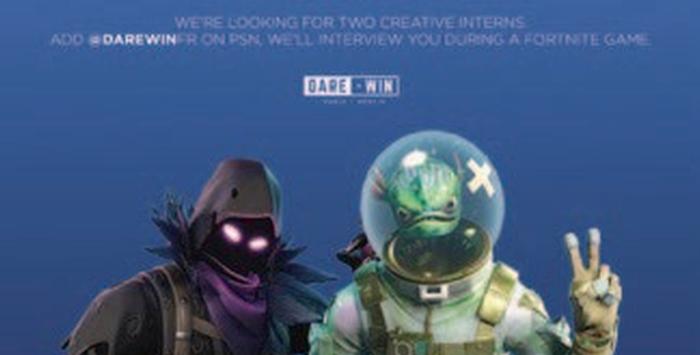 2019 Cannes Contenders
Ten creative directors from around the world tell us what they think will win at Cannes Lions this year. But first, the editor's top picks from all the work showcased in Directory over the past year.
Issue 51 | June 2019
From Directory 49
Clemenger BBDO, Sydney
Wrigley EXTRA – Support Acts
A multiple award winner at The Caples and featured on page 10. It's a case study in how to get people to watch a pre-roll ad for.
Dare.Win, Paris
Self-Promotion – Fortnite Job Interviews
They interviewed candidates for jobs at the agency inside the trending game Fortnite. As well as hiring a couple of interns, they made the agency famous around the world.
Happiness FCB, Brussels
OVK/PEVR – BlindMeters
A Google Maps overlay that demonstrates how far your car travels while you text simple messages. On my way – takes 98 metres, even when you're obeying the speed limit. Another Caples winner, featured on page 11
Leo Burnett Tailormade, Sao Paulo
Samsung – Galaxy S9 Movie Theatre Selfie
To show how well the new phone took photos in the dark, a cinema ad took pictures of the audience and, in real time, showing themselves watching the ad.
Ogilvy, Toronto
Hellmann's – Real Food Rescue
Free food was given to spectators at an important football match at the Scotiabank Arena. At halftime, the spectators got to see all the delicious food they'd eaten was food that had been thrown away.
MRM McCann, Bucharest
KFC – Social Me
A series of films dramatising the paradox of social media. On the one hand, you may feel connected to the world but, on the other, you can be disconnected from everyone you actually know.
Colenso BBDO, Auckland
Spark – Kupu
A multiple Caples Awards winner and featured on page 12.
From Directory 50
BBDO Dublin
RSA – VR Drink-Driving Experience
The Irish Road Safety Agency took a bus around the country inviting people to put on a VR headset and experience what it's like to be a drink driver. Tried, convicted and jailed in horrifying verisimilitude.
CHE Proximity, Australia
Velocity Frequent Flyer Programme – Earnbassadors A winner at The Caples and featured on page 14.
Clemenger BBDO, Melbourne
Mars – Sticky Searchuations
Launching the platform idea of 'Enough chocolate to deal with anything', the campaign answers some of the strangest search queries people ever make on Google.
Forsman+Bodenfors
Volvo Construction Equipment – Pump it Up
Dolph Lundgren puts a platoon of excavators through their paces. This is B to B like no-one has ever done it before.
Ogilvy Mexico and Colombia
Aero Mexico – DNA Discounts
The greater the percentage of Mexican blood their DNA revealed, the greater the discount on flights to America people in the USA could get. Also chosen by two other creative directors as a likely Gold-winner at Cannes.
Sancho BBDO
Postobo´n – Our Flavours Have No Race
On National Race Day in Colombia, Postobo´n drinks were all sold completely colourless.
From this issue, Directory 51
BBDO Pakistan
Berger Paints – Truck Art Childfinder
Trucks in Pakistan always carry hand-painted images. Berger sponsored trucks with images of missing people. (See pages 56-57)
David, Sao Paulo
Burger King – Burn that Ad
Using Augmented Reality, this app allowed people to take any McDonald's ad and watch it burst into flames. And claim a free Whopper in return. (See pages 60-61)
Droga5
HBO – Game of Thrones Series 8
Collaborating with Bud's agency Wieden + Kennedy, Bud's Superbowl commercial was as much a trailer for Game of Thrones as a beer ad. (See pages 78-79)
McCann London and Paris
L'Ore´al Paris – Vogue Non-Issue
The Non-Issue was an edition of Vogue in which every model was over the age of 50, every story challenging ageism. (See pages 72-73)
Ogilvy Frankfurt
Deutsche-Bahn – No Need to Fly
A simple side-by-side demonstration of exotic, distant and expensive places with intriguing, more accessible and cheaper places to visit. (See pages 88-89)
Andre Pedroso
Chief Creative Officer, Grupo DDB Colombia
Adam and Eve DDB
John Lewis - Elton John
This, for sure, is a spot that I wish I had created. Simple idea, impressive execution that deserves all the awards it gets. In a world where performance numbers are pushing agencies into shapeless, unfeeling work, this spot reminds everyone that consumers are driven by emotions. For me, so far, it's the ad of the year.
DDB Paris
HENESSY - The Seven Worlds
A commercial that can win big in Craft. A masterpiece of technical achievement where the direction of art, music, casting, photography, just about everything, is in the right spot.
Apple
Apple at Work – The Underdogs
Some brands are just great storytellers. Apple, as always, surprises with a display of product functionalities through a very well-directed spot, right on tone, involving and reinforcing a moment where the brand bets more on the benefits of the product than simply showing off technology.
Carmela Soares
Executive Creative Director, Clemenger BBDO Melbourne
DDB Chicago
Mars Skittles - Broadway the Rainbow
I've always enjoyed the Skittles campaigns and how they manage to reinvent themselves over and over again. But to me 'Broadway the Rainbow' takes it to the next level. I love the idea of a Broadway show, a physical, live version of an ad. And one that people paid money to watch.
Netflix Canada
Netflix Canada - The Gay One
Sometimes it's the simple things. It's not even a campaign itself, but a voice coming from a brand that, with only six words, created a storm of love and admiration. When someone asked Netflix Canada on Twitter 'what's the difference between @Netflix_CA and @Netflix, they answered very candidly: "because we're the gay one". And looking through their Twitter feed, they actually behave like that. What a simple, wonderful and strong statement to make.
Almap BBDO, Brazil
Pedigree - Human Guides
One of my favourite ideas, because it's so simple and insightful. It's very true to this particular moment in the world when we turn to dogs as a source of unconditional love, the phenomena of the 'fur baby'. The campaign is perfectly integrated and uses every single campaign execution with precision and careful craft.
Cam Hoelter
SVP, Executive Creative Director McCann New York
Ogilvy Mexico
Aero Mexico – DNA Discounts
I love Aero Mexico's DNA Discounts campaign. In a brilliant judo move it takes a subject that most brands wouldn't touch and flips it making it work for them. It takes the highly charged
topic of Mexican immigration and protected from the politics by an inarguable truth, it makes a powerful statement for the brand. Also impressive is that it's a retail campaign selling discounted flights. And retail is hard.
FCB New York
Burger King - Whopper Detour
Working on challenger brands has always been fun. Particularly when the brand wants to irritate the hell out of the category leader. The idea of being able to redeem a Whopper discount by visiting your biggest competitor is pretty smart. It appeals to a younger audience by upsetting the category behemoth. A behemoth that ironically are in a fight to be relevant to the same younger audience. A smart use of tech and smart strategically also, it should do well. Look out for 'Burn That Ad' also from Burger King to do well for many of the same reasons.
Droga5
New York Times – The Truth Is Worth It
Building on the New York Times successful Truth positioning comes The Truth is Worth It campaign. With journalism under attack anything The Times creates from an advertising point of view is always going to be potent. But that doesn't necessarily make it any easier. This campaign is proof sometimes the facts alone can be enough. And is a perfect example of an agency letting what the client does speak for itself. Artfully deconstructing the incredible work The New York Times does to bring you, the Truth says it all. Impeccably crafted, this campaign is a personal favourite.
Manuel Borde´
Executive Creative Director TBWA\RAAD UAE
Summer is coming! ... and with it another Cannes Lions Festival. Agencies lining up amazing work that will fight its way to reach top honours. Now, with two new categories added to the already extensive list, and more awards handed out every year, predicting gold winners doesn't seem as difficult as it was before.
Here are three of my favourites (excluding, of course, great work from our TBWA), and no, I'm not including Nike's Kaepernick campaign, that we already know will sweep.
LOLA Mullenlowe
FELGBT - Hidden Flag
I won't praise how daring it is (it is!), but, then again, I just love how clever and original it was to beat the system and slap an archaic mindset right in its face. The way they chose to present this stunt to the world in a series of fun and crafted photographs made it fresh and engaging. I don't believe I saw the same picture twice in any of the hundreds of blog reviews.
David Miami
Burger King - Agency of Robots or A.I. written ads
Hilarious and taking a p*** out of trends like most of the work coming out from BK, this time the fear of A.I. one day taking our jobs. Even though it got called out for being scripted and not actually written by an A.I machine it's still a brilliant idea, wonderfully written to fool everyone.
DDB Chicago
Skittles - Broadway the Rainbow
Proving you don't have to be IN the Super Bowl to steal the show. Skittles stunt/musical was original, entertaining and left all of us on this side of the world wanting to see it live. The campaign around it was really funny and the casting choice spot on. All components on this campaign worked so well together. One of my favourites to win big.
Aaron Goldring
Executive Creative Director Engine, London
Every year the best of our industry head to the south of France with high hopes and strong constitutions. While very few will leave with some metal, I reckon these three very different kinds of idea from three different countries have a great chance.
Ogilvy Mexico and Colombia
Aero Mexico - DNA Discounts
Make Mexico Great Again! Sorry, I couldn't resist. But what a challenge for Aero Mexico. DNA Discounts is the right kind of idea for our troubled times, using humour to rise above the haters and achieve something almost unbelievable – selling Mexican holidays to Trump's Americans. You have to applaud a brand when it's bold enough to take on such a serious culture issue, and when it does it with such style, it deserves a standing ovation. This campaign should win big.
Clemenger BBDO, Melbourne
Myer - Naughty or Nice Bauble
If you live in the UK, it's easy to think we've reached peak Christmas, with everyone just trying to out-John-Lewis John Lewis. But this brilliant use of smart technology is a merry reminder that there are other ways for brands to get in the Christmas spirit. The Naughty or Nice Bauble is the right mix of new-world tech and old-fashioned storytelling, creating something that every parent would want (and be prepared to pay $20 for). And for Myer, it's a gift that keeps on giving, as it'll be part of Aussie Xmases for years to come. I want one.
FCB New Zealand
Testicular Cancer New Zealand - The Testimatic
Men are typically terrible when it comes to their health, and if the issue relates to 'downstairs,' we don't want to know. However, this activation bypasses the usual scare tactics to deliver a serious message with typical Kiwi humour. There will be plenty of tech-led winners at Cannes, celebrating the latest artificially-virtual-intelligent-reality-whatsit, but in this case, the humble human beats robots hands down. It may not win gold, but should, if only to hear 'testimatic' announced at the show.
Katrien Bottez
Executive Creative Director Happiness, Brussels
FCB New York
Burger King - Whopper Detour
I love this epic troll Burger King executed on McDonald's. To access the deal, people needed to download the Burger King app and journey to their closest McDonald's. When they were close enough, they could order a one-cent Whopper via the app, which then directed them to the nearest Burger King for pick-up. The app was downloaded more than two million times in 48 hours. A great example of clever and irreverent advertising. And very much in line with the actions Burger King have been doing for the last couple of years.
Ogilvy Frankfurt
Deutsche Bahn – No Need to Fly
I love the insight 'Rediscover the beautiful places in your own country'. It is a clever entry point in times when people are being more thoughtful about travelling in an environmentally responsible way. I loved studying these side-by-side pictures. They made me think of the game 'Find the 7 differences'. And the fact the price was added under both locations makes these ads even more convincing.
Wieden + Kennedy
NIKE – Dream Crazier
The first time I saw this ad was not on an advertising blog. I saw it on the Facebook timeline of one of my friends, who has nothing to do with advertising. A couple of hours later, another friend sent it to me by e-mail. A clear sign that the ad, narrated by Serena Williams and celebrating 'crazy' female athletes, really inspired women all over the world to 'dream crazier'.
Debs Gerrard
Creative Director LEGO Agency, EMEA
Droga5
Flipflopi Project – Plastic Boat
Social movements seem to trend at Cannes and I believe 2019 will be no different.
This year feels like it will be centred around the environment and in particular the issue of single use plastic.
Droga 5's project in Kenya to make boats from ocean plastic and flip flops stood out as a contender for me.
Grey Malaysia
Tesco – Unforgettable Bags
The second piece is Grey's "Unforgettable Bags". They've managed to not only implement change within a large corporate but also to shift everyday behaviour with no more than a barcode that gives shoppers a discount every time they re-use the bag.
The & Partnership, London
Hulu – Talking Egg
And lastly, being on a few juries recently, anything that adds a layer of humour to its cause is bound to do well such as Hulu's public service announcement on Instagram, #talkingegg.
Lisa Fedyszyn
Executive Creative Director, Ogilvy New Zealand
For my picks, I'm looking at work from the Oceania region. Naturally, it would be rude of me to mention our own work, like "The Most Dangerous Stunt In The World" for Auckland Transport, which starred stuntwoman Zoe¨ Bell, to demonstrate the insane risks we take on the road every day. Or our "Question A Cop" recruitment campaign for the New Zealand Police, that turns the tables and allows the public to interrogate the Police. So, I will just stick to talking about other great campaigns from my fellow Aus-Zealanders.
Clemenger BBDO, Melbourne
Myer - Naughty or Nice Bauble
A product that controls your kid's behaviour - finally advertising for good!
BMF Sydney
Aldi - Santa Crashes Christmas
What a beautifully Australian way to bring Christmas to the screen. It's a pity the guest that drops into my Christmas is more likely to be a creepy uncle.
FCB Auckland
Ministry of Education - Oat the Goat
This interactive storybook is a well-crafted, engaging way to give good kids the tools to deal with shit kids. These tools will probably be helpful for those working in advertising too.
The Monkeys
Berli - Stop Your Boobs Playing Their Own Game
If you've got 'em flaunt them. Or cover them up tight if you're playing sport.
They've brought the pain of being unsupported to life too realistically, it hurts to watch.
Colenso BBDO, Auckland
Spark - Kupu
Ka mau te wehi Nga¯ mihi to the team on this, making learning Te Reo Ma¯ori so accessible for the whole country.
Laura Jordan Bambach
Chief Creative Officer, Mr. President
So here are my top pics for Cannes next month. All of them are creatively exciting, but most importantly all of them have blown me away with the voices they are expressing.
Colenso BBDO, Auckland
Spark - Kupu
My favourite piece and 100% the best use of machine learning/AI, an incredible use of technology to support the indigenous bedrock of New Zealand and give them prominence. Spark, Te Aka (a Maori dictionary) and Google creates the app to help more people learn Te Reo Ma¯ori, and uses vision recognition to scan objects and provide the Maori translation. Download it.
Mcgarrybowen, London
Mothercare – Body Proud
Secondly, and closer to home, the UK work for Mothercare must surely make an appearance. Never have I cried so much with joy at seeing body positivity shown in advertising. Well done Mcgarrybowen for a stunning turnaround for a brand. And to Sophie Mayanne for the incredible photography.
Wieden+Kennedy
Nike Mexico – Juntas Imparables
Finally, loving this romper of a campaign that addresses the very real challenge that women in Mexico just don't engage with physical activity. As with other Nike women's campaigns over the last few years it encourages us to do something together. It speaks to the real understanding of women and sport outside the US - that we're stronger together.
Pontus Caresten
Copywriter Forsman+Bodenfors, Sweden
MullenLowe, USA
Burger King - #FeelYourWay
No-one is happy all the time and that's okay. In partnership with mental Health America, Burger King cooked up a lovely little idea with a big message. Insightful, contemporary, and a perfectly balanced kick to the groin directed at its happy-go-lucky big brother.
Wieden+Kennedy
Nike - Dream Crazier
Perhaps not the most original choice, but the Dream Crazy series have put Nike in the centre of attention in a way that deserves a mention. A difficult and complex subject (a true minefield to enter) but with precision and a lovely script Nike pulls it off. Emotional storytelling with a powerful real-life angle at its best.
Erik Spiekermann
Adobe - The Lost Typography of Bauhaus
Here's a favourite from Sweden. How do you create interest around Adobe Fonts? Well, one way is to dig deep in the archives of one of the most iconic design collectives ever and tell their story. A fascinating history lesson and a great way of speaking to creatives worldwide.