Editorial
Welcome to Directory 12
Guest Editor – Dave King
Issue 12 | September 2009
This month's Guest Editor is Dave King, Executive Creative Director of AIM Proximity New Zealand.
Dave has won just about every major award going except a Gold Lion at Cannes. He got two Silvers this year and won the Grand Prix at The Caples but he is still driven to do better work for clients who appreciate that more engaging ideas lead to more handsome returns.
Dave selected the 36 campaigns that are featured in Issue 12 and found the time to write a few words about what he's going to be doing to help his agency emerge from recession smiling.
Can we have some fun please?
I'm quite lucky. For the past six months I have had an office that's looked out onto Franklin Road here in Auckland and across to the New World supermarket loading bay.
Franklin Road is beautifully tree-lined with trees of some sort that have big leaves. The leaves look gorgeous for most
of the year, until they begin falling. Then, Franklin Road is metres-deep in dead foliage. So for the past few months (it's winter in NZ) there have been these two council workers walking up and down the street, in the pouring rain, with their little leaf blowers, battling the wind and rain to clear up the soggy mess. Every day they go past my window. At least twice. Unfortunately, every day they make little headway. The leaves pile up, their blower motors roar, but ultimately, they fail. In the rain.
At the same time this is going on, across the road in the supermarket loading bay, there are trucks of every description dropping off their wares. There were hummus trucks, booze trucks, organic chicken trucks, even feijoa trucks. (Pineapple guava, if you didn't know.) And every day, the same two guys and their forklifts come out to unload these trucks. I don't know if many of you know Auckland, but during winter it's cold and very wet. It's not as bad as London, but it's definitely not Sydney either. So I can't help but look out my window and watch the leaf blower guys and the forklift drivers and thank my lucky stars that I've been fortunate enough to land a nice cushy job in advertising
But here's the rub, and the honest truth. For the last six months I've looked out the window and wished I had their jobs, not mine.
It's not that I don't love advertising, I do. Even during this period we've managed to do some great work for each of our clients, work that excites both us and them. But for the last six months everything's been tough. Way too tough. The crisis has taken hold and everything has become a battle. I've had to let beloved friends go and watch passively as good ideas are flayed, flogged and massacred. I've had to walk onto my creative floor and been deafened by the silence. I've had to put on a fake smile so my team doesn't think something bad is about to happen, when really, they all knew it was coming.
But you know what? Stuff all that! That's now the past. It's time to start having fun again. And here's some good news. I've just returned from Sydney where I caught up with four headhunter friends of mine. Guess what? There are jobs out there they can't fill. These guys are now wanting to hear from people like you. A far cry from even a couple of months ago.
Some market analysts are saying the good times are a year away. Others are taking a more positive spin and saying they could return as soon as six months. Both are too far away for us. So we here at AIM we've decided to start having fun again now. Not momentary fun, but 'oh bugger its Friday, do I really have to wait all weekend until I have to go back to work on Monday to have fun again' fun. And while I know this isn't strictly true, you have to aim high or else you fail, don't you?
So, in no order whatsoever, here's what we are doing at AIM to make sure we, and our clients, are having as much fun as we possibly can.
We are not going to do award winning work.
We are going to do fun stuff. Stuff that makes us smile to do. Stuff that involves being silly, making people laugh, exotic shoots, flying in planes, whipped cream, you get the drift. Ben and Jerrys in this issue did it. Our 'spin and win' promotion for our client The Warehouse wasn't sophisticated. But boy, people got into it. They got a buzz out of participating, and right now that's fantastic.
We are going to be one-in, all-in.
That means that if one person has to do the hard yards so do the rest of us. We're a team and no one should be left to work for six hours if three people can do it together in four.
We're going to celebrate
This has been one of the tougher things over the past few months. We have won more awards than any time in our agency's history. But because of the other stuff going down, we haven't been able to celebrate. That's going to change. We are all immensely proud of what we do. And we should and WILL celebrate each time we've done something great. Like yesterday. I took the team up to the Tree House for a few beers and handed out our D&AD certificates. It was cheap, but fun. And we ate pies.
We're going to surprise our clients
At the moment, each of our clients faces greater pressure than ever before. We're going to find out what it is that is freaking them out and come up with work that kills that pressure. This is also a great thing for the agency. It allows us to do great work in response to a real problem. And no matter how serious the problem, you'd have to be an idiot to present work that you're not keen on producing. It must be stuff that answers a problem, but in a way that excites the agency to do.
We're not going to worry whether it's 'direct' or not.
We'll leave that to navel-gazing award juries. We're going to do whatever feels like the best solution to our client's problem. That might be a foldy thing, a TV ad, an EDM or dyeing a flock of sheep ginger. Hopefully we'll do more sheep stuff than foldy things.
We're taking our clients nude swimming.
Two down, loads more to go.
We're going to live life outside of work.
It's not award books or, dare I say it, the latest issue of Directory, which is going to help you come up with the next great idea. It's watching your kid run into a wall or a midget struggling to reach the broad beans in the chiller aisles. It's hanging out with real people. With your mum. With your old school buddies.
We're going to pay out on each other.
If you can't take the piss out of your workmates, who can you take the piss out of? The most fun agencies I've worked in are the ones where you show how much you respect each other by mercilessly finding ways of embarrassing and humiliating each other. Never hurtful, always fun.
So there you go. I know it's hard at the moment, but now really is the time to keep your chin up. Hopefully the worst is behind us and there will soon be the opportunities to show great value. My advice is to grab this moment and work your arse off to come up with real solutions to real problems for your clients. Don't wait for briefs. Write them. Most importantly, have fun with your team and your clients. The results will show through in the long run!
Submit Your Work
Send us your work for the next issue of Directory using our submissions form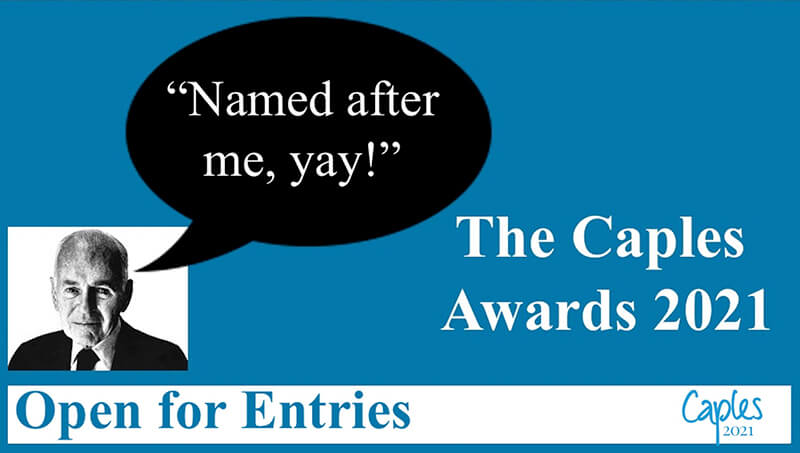 HALF PRICE DIRECTORY
Subscribe now and get the next 4 issues + 5 passwords to the online archive, now with over 5,000 case studies